Prague Airport Transport is a taxi service that is private in nature and specializes in airport transfers within Prague to and from Vaclav Havel Airport for both groups and individuals. Their services are affordably priced and border along professionalism and courtesy so you can be sure you are getting the best service. Whether you are traveling on business or for pleasure, Prague Airport Transport provides private, exclusive and professional transfers around the Czech Republic and even Europe from Prague Airport.
Prague airport transport was started in 2015 after managing a small business for private local transfer in Prague for years. Prague Airport Transport is a local company which believes that only a company that cares about what they do and knows exactly where they are headed can offer airport transfers for the best quality.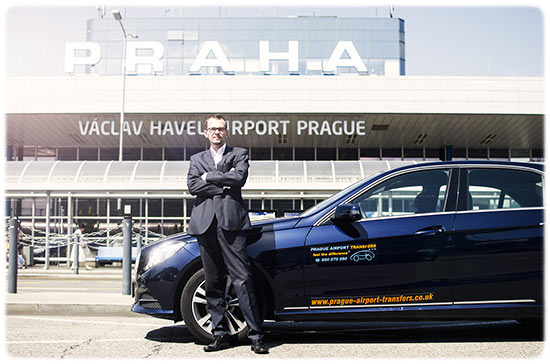 Seeing as more street taxis are charging up to 100% markup beyond the reasonable rate for airport transport in Prague, this may not be the best option for customers and may not be good for the reputation of airport transfer operators.
As such, Prague Airport Transport has developed a booking platform that is simple to use for airport transfers, has no hidden fees and has clearly set rates which are visible. It is also worth noting that Prague Airport Transport has the biggest hotel compilation booking system in Prague. The Prague Airport Transport drivers pick up and drop off customers at over 1500 locations and more. The hotels listed under the Prague Hotel booking system drop down menu.
Book your transportation in advance and avoid the commotion that comes with public transport or the possibility of being overcharged by street taxis. With just a few clicks, you'll have booked online through the Prague Airport Transport secure website. Booking your airport transport beforehand is essential because traveling to the Prague Airport and arriving there on time, especially if it is somewhere you've never traveled to before can be a stressful experience. Avoid the pressure altogether by booking online. Once you arrive you will be met by their English speaking driver and greeted at the Arrivals hall by the same driver holding a signboard with your name on it for easier identification. The driver will assist you with your luggage from the airport to the car and from the car to your next destination. Prague Airport Transport rates are fixed and have no extra undisclosed charges, not to mention you'll find them to be up to 50% cheaper as compared to the typical street taxis. Their drivers are never late seeing as they have an online tracking system for the flights to know when you are expected to land and dispatch their vehicles as is required.